JAM-TAKO members profile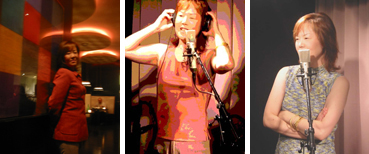 AKANE
I am Akane, the vocalist in JAM-TAKO.
Our music provides very warm and melodious sound.
Makes all of your heart gentle and happy.
Feel free to enjoy our music at anytime.
Spend your marvelous time together with your dearest in our music.
You can experience our sound on the many sites of digital distribution companies.
For example, Apple iTunes, Amazon etc.
I hope you enjoy our music right now. Don't miss it !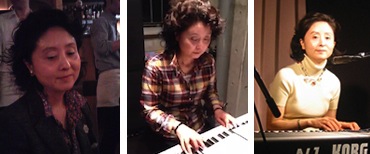 MIKI
Hi, here comes MIKI, the vocalist, keyboard player and song writer in JAM-TAKO.
When I was a child, I used to sing traditional songs with my mother, playing the piano.
As older, my elder brother opened the door to Rock music.
Always with so many heart warming music,
I am very happy to meet you through JAM-TAKO's lovely music.
With our best wishes!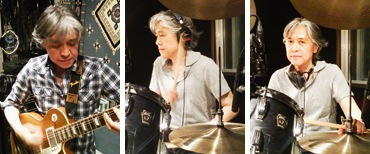 JUN
I'm a leader in the band. I was born to be a drummer,
and loving play the guitar, the bass and the back vocal,
and so I am very busy playing in JAM-TAKO.
My career as a musician started when I was 13,
and playing Rock music over 30years. So, you got know my age ?
I had many experience of the session with famous musicians.
They very strongly inspired me to becoming a good musician.
Then, I'm in JAM-TAKO now.
It's very exiting thing that I'm a one of member in this great band !
So, I will never stop playing & song writing for JAM-TAKO in my time of dying ! Anyway, I love R&R !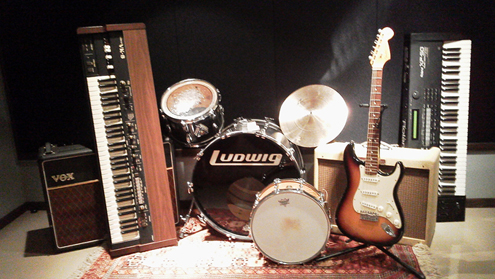 JAM-TAKO, is a rock band from Tokyo Japan formed in 2002, composed of three, met when were high school classmates.
Akane Vocal
Miki Keyboards and Vocal
Jun Drums, Back vocal and Guitar & Bass on recording.
Every member has so long playing career.
JAM-TAKO's music is so highly influenced by the 70's~ modern rock music.
Each member love R&R, Blues, Country, Folk, R&B etc, Deeply rooted by American traditional music.
JAM-TAKO creates original songs which produce with something new idea to essential R&R music.
Every music has unique characters, once heard, bring you the energy to life and love.
Very honored to tell , thank you all for your support, JAM-TAKO got the winner's call for 2020 TC Indie Awards Best Band of the year!
On 27th March 2020, single 'Deal in Nightmare(2020 Version)' appeared!!
And on August 24th 2020, New song 'SHINE ON' released!!!
JAM-TAKO running through Tokyo dark midnight, Go straight to catch the bright shining to all over the world!
JAM-TAKO, always be happy with you, hoping for all peace and safe.


Links
Official Website - http://www.jam-tako.com/
Twitter - https://twitter.com/jam_tako3
Face Book - https://www.facebook.com/jam.tako
YouTube channel - https://www.youtube.com/channel/UCLQluAlEh7Fs2fz57yaOVrw


Contact: jam_tako@yahoo.co.jp


go to top